Archers of Bridlington & Burton Agnes run Coaching Courses each year at our shooting ground at Burton Agnes Sports Field between April and July.
Each course is led by our Coaching Team of 1 Level 2 Archery GB registered Coach and 2 Session (Level 1) Coaches.
The course runs for 5 consecutive Sunday mornings and each session lasts 2.5 hours.
The cost for the course is £50 for seniors (age 18 and over) and £30 for juniors (min age 10). The cost covers Insurance, equipment and all coaching/training. At the end of the course you will be able to
shoot safely and confidently at a distance of 20 yards, which will then increase at your pace if you join the Club.
You will be presented with a certificate on completion of the course. If you then decide to join the Club coaching is available on a one to one or group basis if requested. You will use the recurve bow (used in the Olympics, see below) and you will also be shown the
Compound bow and the English Longbow. The Longbows will be available to shoot on the course.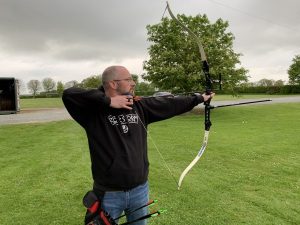 Once you have completed the course you can then apply to join the club. The certificate you receive will also be valid as proof at any other Archery club, that you have completed an Archery GB registered beginner's course.
What you can expect.
Week 1: Welcome, Introduction to the Club and Coaching team, shooting equipment assignment. Safety talk/briefing, eye dominance checked, equipment set up and basic safety rules given. Explanation on parts of the bow. Demonstration of Olympic/Mediterranean style shooting technique, initially using stretch bands. Leading on to shooting the bow at 10 yards using a sight. Targets will have already been set up at 10 yards. How and when to adjust your sight and safe arrow retrieval. How to take down equipment and return to containers and where it is all stored. Finishing with how to string and de-string your bow.
Week 2: Recap week 1. Set up all equipment, string own bows, set up bosses and stands. Stretching/warm up exercises, importance of warming up and use of stretch bands. Focus on pre-draw, stance, body alignment & draw hand position. Introduction and explanation of the long rod and finger sling. Moving out to 20 yards for all those who are ready to do so. Introduction to scoring systems, Imperial and metric rounds, line cutters, bouncers, hangers etc. Arrow pullers shown & demonstrated. Finishing with Safety & Etiquette in archery explanation. Cool down and its importance explained.
Week 3: Recap week 2. Set up, warm up. Correct body position for shooting, to perfect your shot and prevent injuries. Good release (loose) with follow through explained and demonstrated including back pressure explanation. Shoot a 252 round and score your own arrows. Cool down.
Week 4: Recap week 3. Warm up. Shot sequence explained to enable repetition of your shots, 10 point shot process checklist explained. Check all have a shot sequence and correct where necessary. Compound & Longbow shown and explained. Bare bow technique demonstrated (no sight). Now try the Longbow if you wish to do so, shooting bare bow style. Cool down. Finishing with how to join the club, joining forms will be available. Equipment loan explained.
Week 5: Recap week 4. Integration into the Club, Shoot alongside Club members, form check on all and adjustments made as necessary. Set up shooting a 'round', score arrows and where to place completed score sheet. Opportunity for questions on form and archery in general. Two way feedback session about your course.
——————————————————————————————
After the last session:
A Certificate will be issued to those who complete the course. A course photo will be taken for use on the Club website, Facebook pages and also sent to all participants. Further coaching will be available when required and requested on joining the Club.
Thank you – ABBA Club Coaching Team – Dave, Heather and Karen
Please note, at all times on the beginner's course there will be a member of the coaching team with you for assistance, guidance and encouragement and also to answer any questions you may have.
Don't be afraid to ask