Beginners Course 2022
Archery Beginners Courses – will run from April to July. Please contact Dave on 07795 097260 if you would like to book onto a course.
For more information on our beginners courses please click HERE
We look forward to seeing you in 2022. Picture is of a few of our 2021 beginners, now members of the Club.
---
---
Easter Bunny Shoot 2022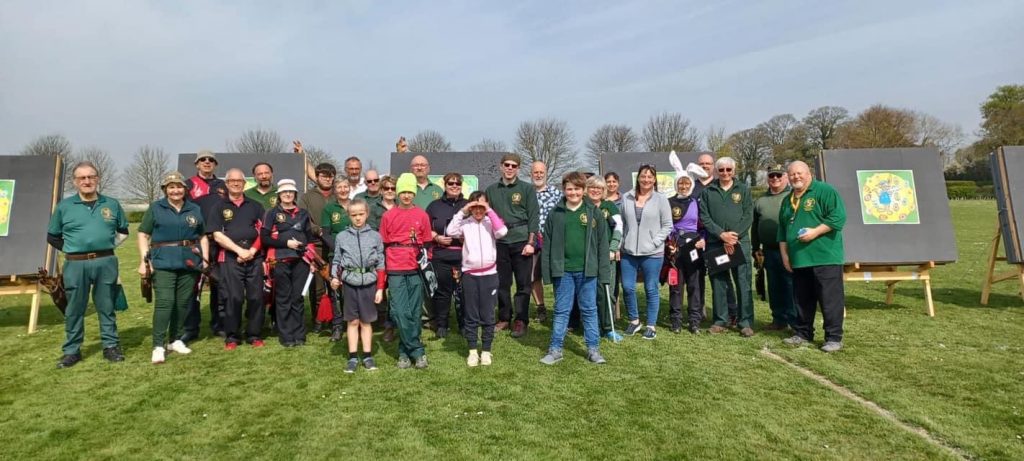 Happy Easter everyone. It was great weather for our Easter Bunny shoot today with 23 Archers shooting.
The scores as ever were dodgy, with 5 unknown and of course some were negative. We certainly knew who had those when they were given out. Lots of food provided by the members were consumed at the half way break and teas and coffee's were provided by Caz and Mike. Well done Karen on organising a great shoot. Lord Paramount for the day was Will.
In 1st place was Kim, joint 2nd place was Colin and Karen H and in 4th place was Karen D. In last place (same last year 😂😂) was Laura. Ivan also won an Easter egg on the draw.
Sport England Invests

Sport England invests in Archers of Bridlington & Burton Agnes Project, Boosting Children's Archery Opportunities Great news for the Club.
We have been awarded a grant from the National Lottery, via Sport England Queens Platinum Jubilee Activity fund for equipment for our Junior members. We have had a few Juniors come and go over the years, but recently the number of very young Juniors has increased significantly.
Then after a visit to a local school to carry out a demonstration of Archery and run a have a go there, the numbers shot up again. This highlighted the Clubs lack of Junior kit in general and the need to be in a position to give all, who do our beginners courses and go on to join the Club, the best chance of doing their best and not be impeded by equipment.
This grant will really balance out the opportunities to do well for all Juniors at the Club, this year and going forward.
The Club would like to thank The National Lottery and Sport England for this investment in the Club. Thanks also to everyone who plays National Lottery games for your support.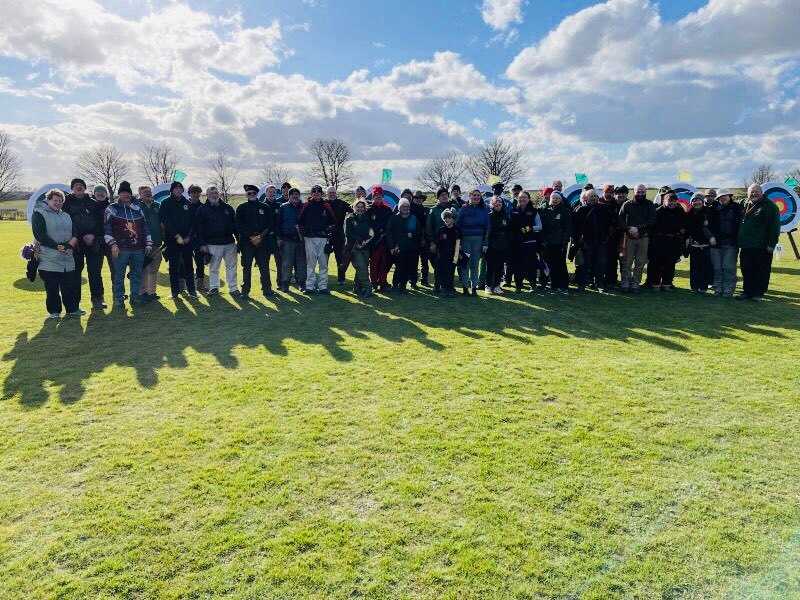 ABBA Dabba Do 2022
The 10th Abba Dabba Do Longbow competition was yet again an amazing success as we welcomed over 57 archers to the club for our annual shoot.
After having to cancel last year due to covid it was nice to get back on the field. Thank you to all who made the journey.
Club Beginners Competition 2021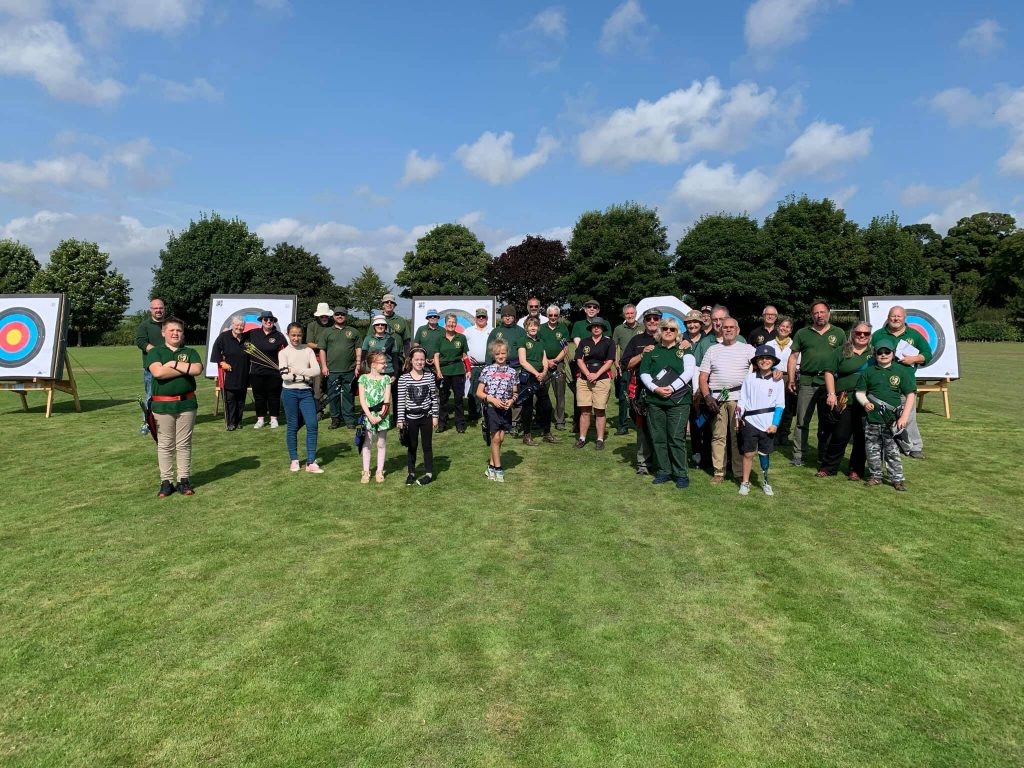 Sunday 5th September saw the 2nd running of the Archers of Bridlington & Burton Agnes Club, Beginners Competition.
This had 3 teams competing, the beginners from 2020, the beginners from 2021 and the experienced archers. The handicap was the distance shot. The weather was sunny and warm with a very gentle breeze. This year we had 7 under 12 year olds shooting, which is a first for a long time for the Club and great to see.
Refreshments provided by a number of the Club members were enjoyed at the break. After a hard fought battle the victors were the beginners from 2021 claiming the Gold medals, with the experienced archers in second place claiming the Silver medals and the beginners from 2020 claiming the Bronze medals.
Top scores of the day went to Kim for Recurve, Lindsey for Longbow and Tracey for Bare bow. There was also a Best Gold trophy for the 3 teams, which were won by Kim, Ben and Sue. There were a number of records achieved on the day and a lot of personal bests. Thanks to John for being our Lord Paramount and very professionally running the Club Cafe.
Great day for a Club that is growing in numbers and strength.
Halloween Shoot 2021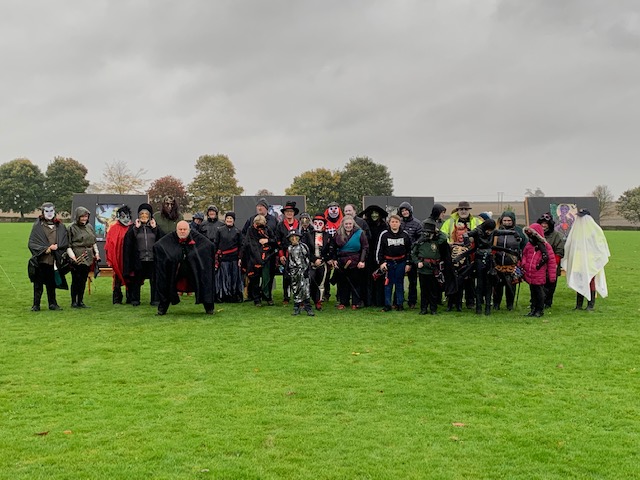 The good old British weather let us down today! We managed one end of sighters and one scoring end of arrows before the rain and wind forced us to give up and go inside for the monster buffet, provided by all the members.
A huge effort had made by all to get dressed up and the winner of the best Costume as voted for by all at the event was Karen as the Bride of Dracula.
Where potential for the weather to have spoiled a good day could have been one outcome, the club members turned it around to make it a good
get together in a Halloween themed Club room, with lots of food, music and laughter.
The Lady Paramount for the day was Charlotte who was also celebrating her 11th birthday. Thank you Charlotte and a very Happy birthday.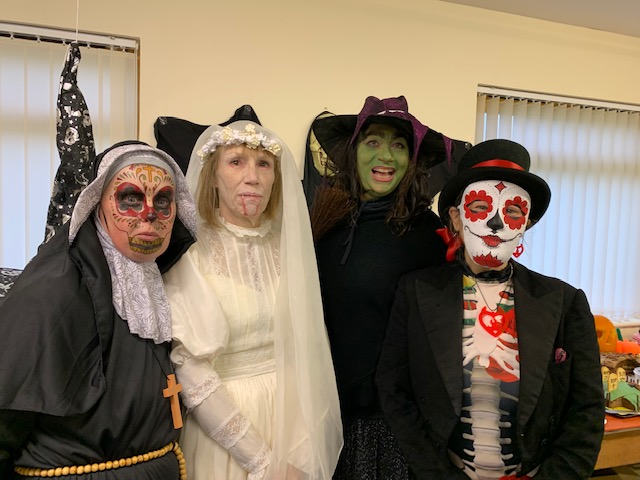 Winners on the day were:
Seniors
Gold – Kim
Silver – James
Bronze – Jayne and Colin
Juniors
Gold – Cole
Silver- Tiler
Bronze – Charlotte
Wooden Spoon – Sue J
Best Costume – Karen H
History & Demonstration of Archery at Kilham School 2021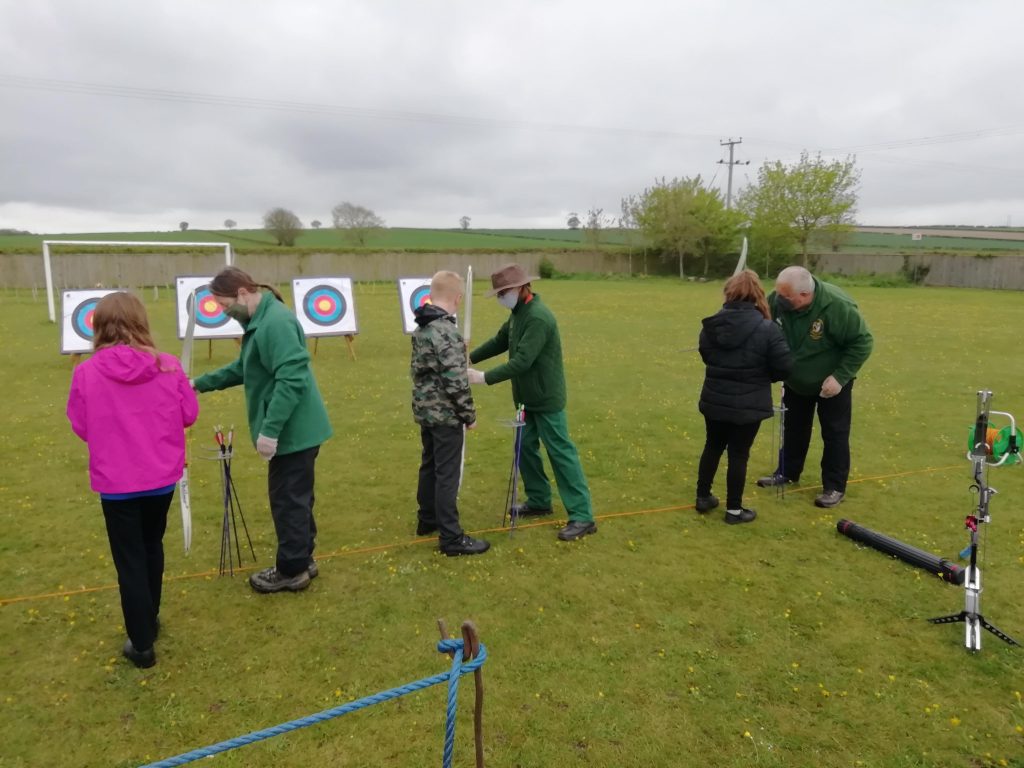 On Friday 14th May, Children in Year 5 and Year 6 at Kilham Church of England Primary School spent the afternoon working with members of the Archers of Bridlington and Burton Agnes Archery Club. The school has recently purchased some school-friendly archery kits, which we will be using as part of our PE and games curriculum in the summer term. To help launch the new equipment Mr Palmer the headteacher contacted the local club to see if they would be willing to come into school.
Dave Hunt (the Club Coach) and seven club members taught the children about the development of bows throughout history and demonstrated four different types of bow. The children in Year 6 who are studying the medieval period and those in Year 5 who are looking at the Vikings saw a demonstration of bows from the ancient longbow, a recurve bow and a modern compound hunting bow.
The members of the club then spent time giving the children a chance to handle the bows and shoot them at the targets. All of the children had a brilliant time shooting the bows and the members of the club were knowledgeable, patient and worked well with all of the groups. All of the children enjoyed the afternoon and many of them were pleased that they hit the target, with some hitting the gold in the centre.
Many children took away information about joining the club or trying a beginner's course, which happens at their training grounds in Burton Agnes.
The School would like to say a massive thank you to Dave and all the members of the club for a fantastic afternoon where the children learnt a new skill and had a lot of fun.
Easter Shoot 2021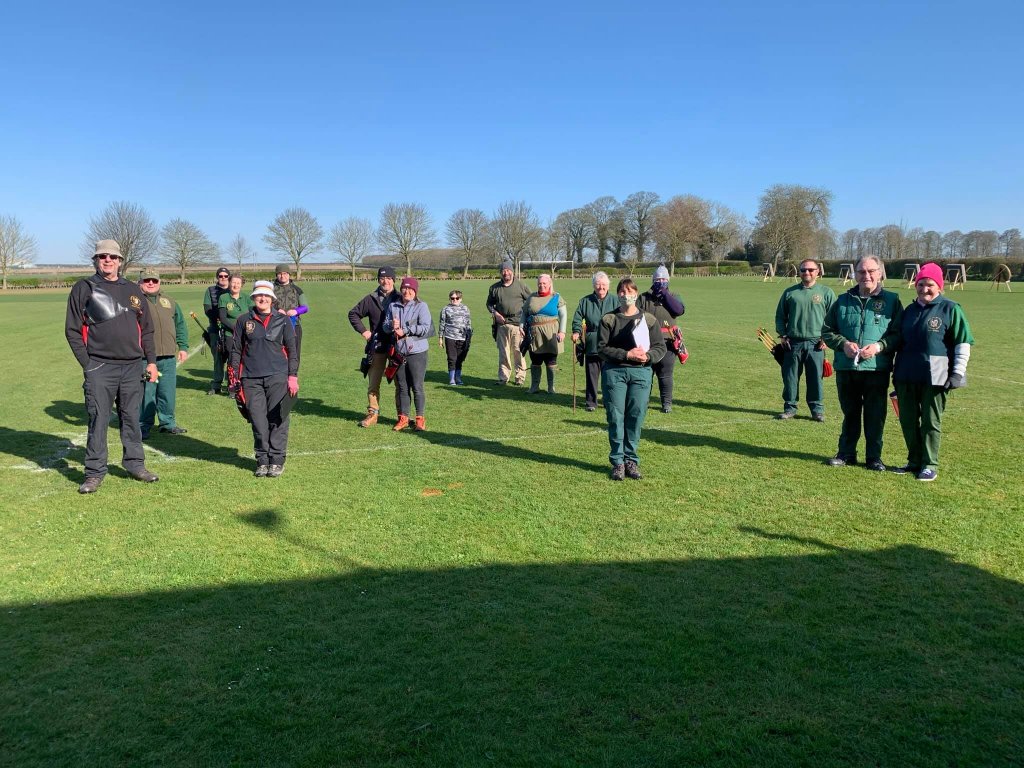 The 2021 Easter shoot went very well, in the scorching (well warm) sun.
1st prize went to Sue, 2nd prize to Ivan and 3rd prize to Terry.
Last prize and the only negative score of the day went to Amanda.
Thanks to the two Karen's for the teas and coffees and to Laura and Carol for the fondant fancies and chocolate Easter lollipops.
Great way to come out of lockdown.
Halloween Shoot 2020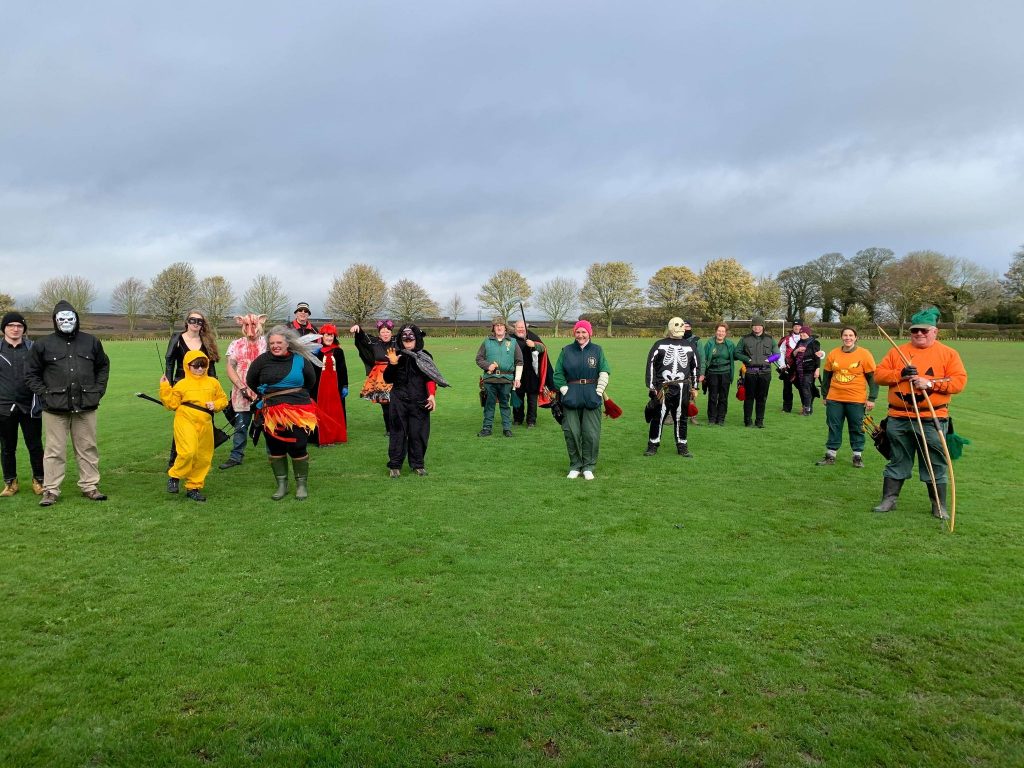 The 2020 Halloween shoot went very well with 20 Archers braving the very windy and slightly damp conditions. The food provided by members was hot bats soup, devils fingers and lots of cakes and sweet treats. There were an even number of Barebow, Longbow and Recurve on show and a sneaky scoring system acted as a good handicap system.
The winners for Longbow were:
Gold – Amanda W with 148 points
Silver – James S with 137 points
Bronze – Dennis W with 113 points
The winners for Barebow were:
Gold – Melissa C and Gary Y with 107 points
Silver – Billy W with 95 points
Bronze – Carol S with 56 points
The winners for Recurve were:
Gold – Sue L with 141 points
Silver – Lindsey S with 109 points
Bronze – Ben N with 105 points
Wooden spoon this year goes to Laura S with 43 points
Prize for Best Costume, went to Billy Wilding.
All done under social distancing conditions and was a great day.
2019 Club Fun Shoot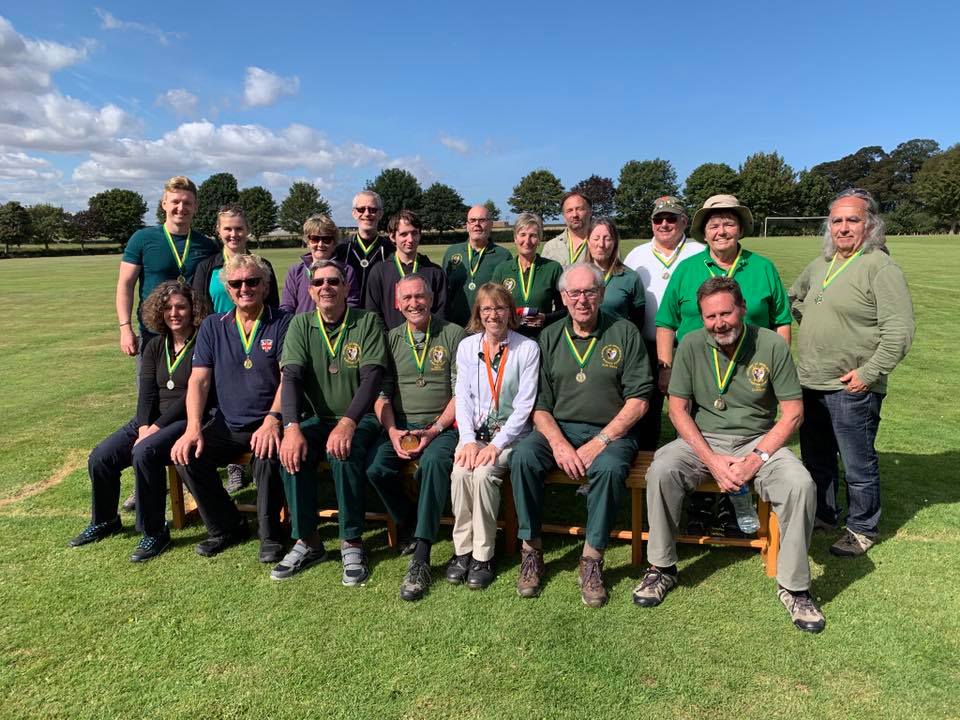 Archers of Bridlington & Burton Agnes have for quite a number of years been involved in a 3 way club beginners competition.
This years competition was to be held at our club but a lack of numbers from the other 2 clubs meant we had to cancel the shoot. A decision was made to have a club shoot and one with a difference – 3 teams were set up, club members, beginners in their first year of shooting and beginners straight (literally) off a beginners course.
The handicap was the distances shot. A western round was chosen, 60 & 50 yards for club members, 40 & 30 yards for beginners in their first year of shooting and 30 & 20 yards for beginners straight off their beginners course. It was difficult to call just who would win this.
The shoot went really well on a sunny, warm and slightly breezy day. Karen Hunt was the judge for the shoot and kept everyone in order, which is not an easy task at this club. The half time break was enjoyed by all with cakes and biscuits provided by Carole and Karen with Caz ensuring everyone had a beverage where required. The result of the competition was very interesting with the beginners straight off the course coming in 1st place, with the beginners in their first year in 2nd place and the Club members coming in 3rd place.
Medals were given to all who attended and a best gold trophy was awarded for each teams best gold, with Richard, Gary and Martin taking these home.

Thanks to all who attended today and for assisting with set up and putting away, which was done in record time.
Liverpool Boys Brigade Have A Go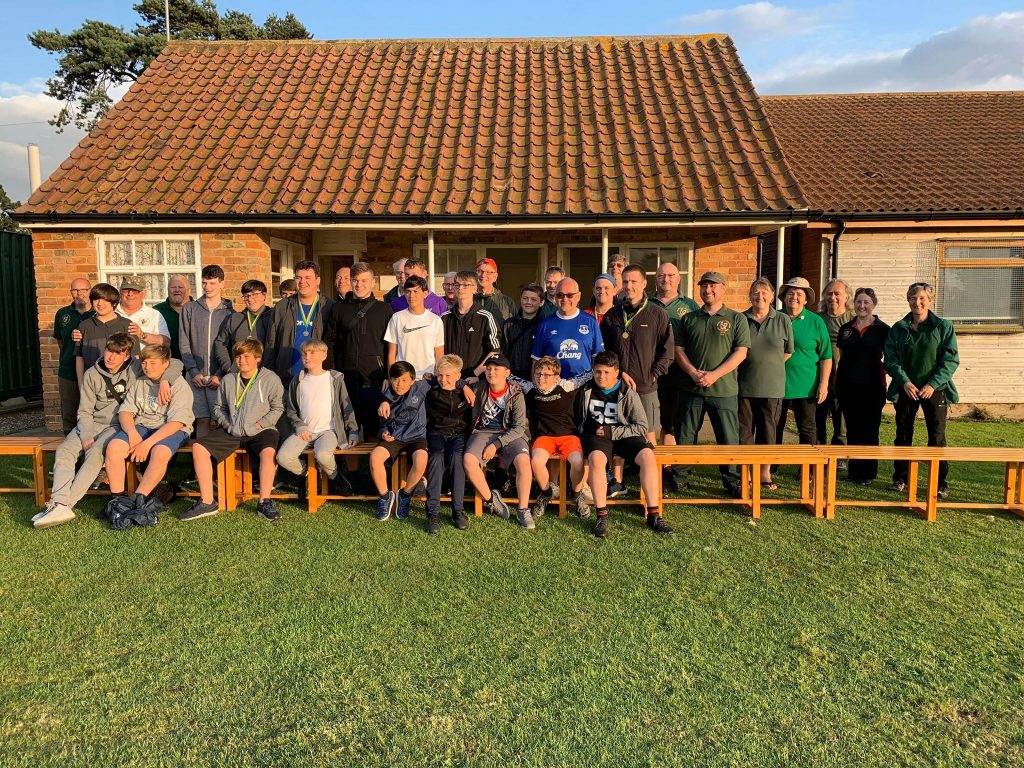 All the way from Liverpool for a have-a-go!
The Liverpool Boys Brigade and Leaders (26 in all) enjoyed a have-a-go at the club on the 30th of July, perfectly organised by our club members.
Some fine shooting added to their enjoyment, well done all we will see you again.
Windfarm Grant
Welcome from Archers of Bridlington & Burton Agnes based at Burton Agnes Sports Field.
Recently the Club (following committee authorisation to apply) were fortunate enough to secure funding by way of a Grant from the 'Lissett Wind Farm Community Fund' to improve club facilities. The project was named: 'Club Expansion – Lightening the Load'.
Archers of Bridlington & Burton Agnes Archery Club, as many non-profit making sport clubs rely on club subs to maintain the day to day running costs. To move forward with projects can be very difficult as without increasing subs substantially this is just not possible.
One of the biggest problems the Club struggles with is the weight of the targets which are made out of straw. It takes 2 reasonably strong people to manoeuvre/lift these onto the stands. A significant number of the Clubs members are unable to do this due to age (young and old), injuries and a lack of physical strength. This results in an added burden to the few Club members that are able to undertake this task.
In addition to the above the Club was also struggling with a lack of storage space in general and in desperate need of a larger storage container.
The Grant will enable the Club to purchase a new to the Club (second hand) 20 foot container and 12 lighter Danage targets, which are much lighter than the straw targets currently in use. The clubs smaller container will also be donated to the Bowls Club based on the same site.
The award of the Grant will ensure that going forward almost all of the Clubs members will feel able to put up targets and take them down, including our junior members (where able to). Currently junior members are not allowed to undertake this task as per the Club Risk Assessment, which will now be altered to reflect this.
Archers of Bridlington & Burton Agnes would like to thank the Lissett Wind Farm Community Fund for this Grant. The Club will be able to expand as a result of the improvement in facilities and increased storage space. This will make a significant difference to the club and its members, thereby allowing more people to engage in the sport and also more importantly our older members to stay in the sport for longer. Another benefit to all Club members will be a reduced risk of sustaining injuries from manoeuvring heavy targets.
Interclub Competition 2018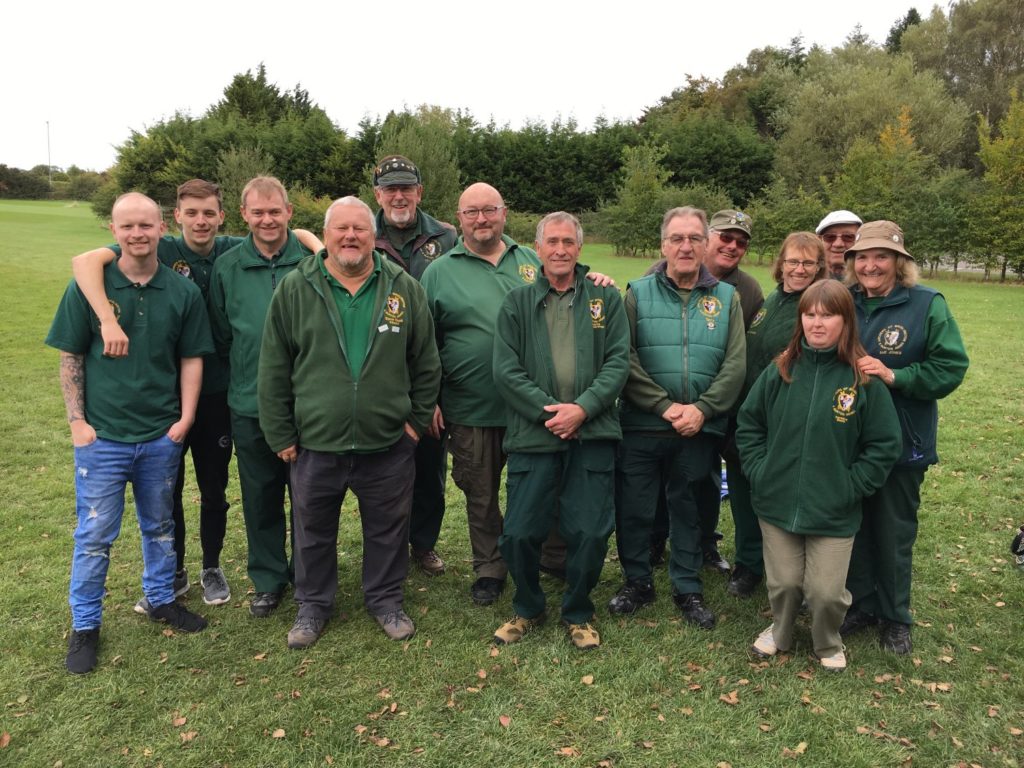 On 23/09/2018 Abba took their team down to Panda Bowmen as a part of our customary interclub competition. Our 3 beginners Sam Smith, Liam Smith & Malcolm Cunnington came 2nd in the shoot so well done to them.
Martin Blakebrough won Gold in the Recurve with Eric Cromack winning a silver, also Dennis Wilcockson won a medal in the longbow section. Well done to all who took part.

Many thanks to Panda Bowmen for hosting the event, it was a fantastic day enjoyed by all.
2019 Club Fun Shoot